Welcome to the Mad Hatter Chimney Sweep Company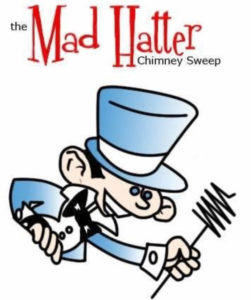 The Mad Hatter Chimney Sweep is a full time Licensed and Bonded home based business committed to providing each customer with an exceptional service experience.  Our goal is to deliver the highest level of customer care and attention ?while providing the best in chimney and dryer vent cleaning, one customer at a time.
My name is Jason Smith, chimney sweep, business owner and member of the National Chimney Sweep Guild (NCSG).  we have been involved in this service industry since 1979 and love the opportunity we have been given to serve and offer our community a valuable service promoting Peace of Mind and a Safe Home Environment.
The Mad Hatter Chimney Sweep provides cleaning services for your Fireplace, Chimney and Dryer Vent. We would be honored to provide you with our services which creates a safe clean environment for your home or business. We are available Monday-Saturday with flexible appointment times.
Committed To Deliver Extraordinary Customer Service
Our focus is to provide you with what you expect from a business, committed to exceed your expectations from our initial greeting to the end of each job. Your satisfaction is guaranteed.
Our sweeps are Chimney Safety Institute of America (CSIA) certified and we are members of the National Chimney Sweep Guild (NCSG).
We believe providing extraordinary service, strong work ethics, fair rates and a keen eye to safety in everything we do provides a great opportunity to earn your trust and keep your business for many years to come.
We at The Mad Hatter Chimney Sweep Gladly to Offer:
Free consultations
Senior Discount
Group Rates
Gift Certificate
Guarantee no mess
Do you have someone special in your life that would benefit from a chimney or dryer vent cleaning?
Consider giving your loved one a pre-paid Gift Certificate from The Mad Hatter Chimney Sweep.  Whether, it's to a relative or one special in your life, I can assure you it will be a welcome surprise.
Do you live in a community with a homeowners association or have friends that live near by?
We offer group rates for 3 or more homeowners that live near each other and schedule their appointment in conjunction with one another.
NOTE: 

At least 2 appointments must be scheduled and worked on the same day. 

Call The Mad Hatter Chimney Sweep today


(206)274 6409

for more details and SAVE!
Senior Discount
Seniors, 60 years and above enjoy a special discounted rate with The Mad Hatter Chimney Sweep.